Pilates for everybody
The reformer can adapt to the broad spectrum of the population. You will see positive changes in posture, alignment, weight and body-mass distribution, self image, athletic performance, and the ability to perform every day activities.
After about 30 sessions, you will move differently, your posture will improve, your confidence will elevate and your whole life will feel changed as a result. With commitment over years these changes will only be the beginning!
For expecting
mothers
---
For sports &
activities
Some sports recruit muscles on one side of the body, like golf, tennis, or skateboarding. Other sports require special skills like balance and deep body awareness and control.
The reformer can help clients advance their overall technique, strength, endurance, coordination, balance, alignment, flexibility, and core control. It can also help to prevent and recover from injuries.
Pilates for sportsmen and women, is a safe and effective exercise method that will enable clients to look, feel and perform better all round.
---
The reformer is a super gentle way to exercise. There is no stress on the joints and no pressure on the muscles because it is zero impact. The reformer is a great way to get into physical activity especially if you are older and find gyms and their equipment unsuitable.
It focuses on getting the brain thinking and connecting with the body. It helps to improve concentration, mobility, breathing, flexibility, posture, and balance.
All these can benefit many aspects of your life, whether you're 8 or 80! Regular physical activity is key to mental and physical wellbeing at any age but becomes even more critical for seniors.
For older
adults
---
For toning &
weight loss
The reformer can be a solution for those who would like to look good and feel good too.
Exercises on the reformer machine use resistance to induce muscular contraction. By stretching the muscle, the muscle fibres lengthen and re-align, which is an amazing way to shape the body, giving your body a tighter and leaner physique. Visually, you will see strong and lean muscles with improved posture too. Sam recommends that clients do 2-3 sessions a week to really work on leaning out the body, to achieve this goal.
---
The footwork series on the reformer is helpful as it strengthens the muscles of the feet and stabilizes the ankle joint. Therefore, clients with issues such as plantar fasciitis, and unstable or weak ankle joints, can benefit. The footwork series can also benefit the hips, pelvis and knees by helping to improve alignment and mobility.
Whether it's from bad posture or trauma, back pain can affect your lifestyle. Whilst it is common for us to have back pain, it doesn't mean you have to live with it. Engaging in regular reformer exercises can be an effective way to live pain-free.
The individualised and versatile nature of Reformer Pilates makes it beneficial for fibromyalgia patients too.
For injuries
and pain
---
For sculpting
Sam offers a special sculpting workout for legs, bums, tums and arms.

She uses a method that combines Pilates, dance, and mat Pilates to help you achieve a lifted and sculpted bottom, toned arms like a ballerina, slender thighs, and a flat feminine stomach. Three sessions a week are advised for best results.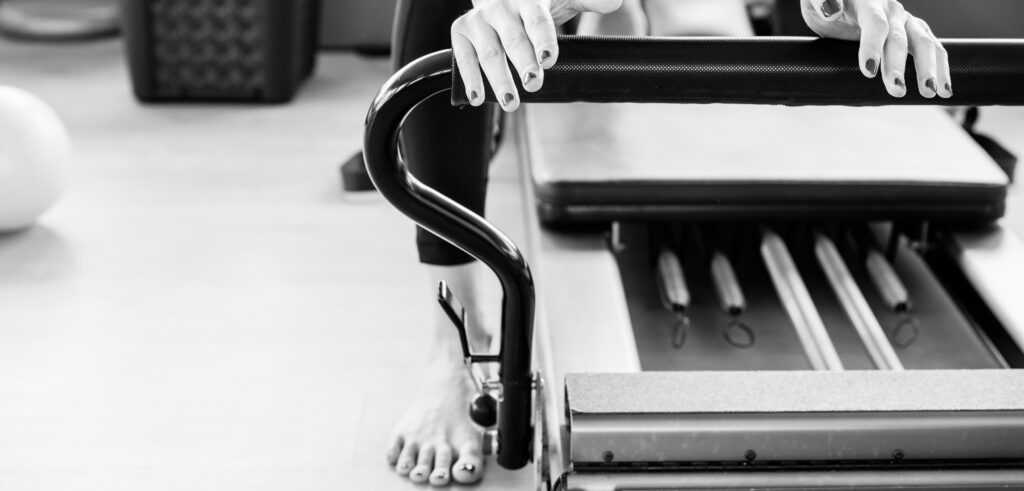 New to exercise or to the reformer?
New clients are always welcome, no matter your prior experience. The reformer is excellent for people who have never exercised before, and want to tap into fitness, for whatever reason.
Although the machine may seem daunting, don't let that sway you from giving it a go! It is a low-impact workout that can result in significant gains in long, lean muscles as well as strength, endurance and flexibility.
Book a session
---
Come and experience the mental and physical changes that Firefly Pilates can bring to your mind and body.
Fill in the form for further information or to book your first Pilates reformer class – it's called an Initial Consultation.